New trend: Low heels, why are we now looking for comfort?
Midi heels
are a trend and we tell you why!
In
Bryan
we bet on this type of heel for our
summer sandals.
They are
Made in Spain
, handmade by craftsmen and it is also the most comfortable thing you are going to have in your wardrobe.
Three reasons why we're all going to love the midi heel
1. They are the ideal height recommended by doctors.
A 5, 6 cm heel is perfect for our spine.
As we increase the height of the heel, our body weight shifts forward. This uneven weight distribution changes the overall posture of the body and can affect muscles and joints.
This is why the height of the heel is so important when deciding which
sandal
to choose.
The
leather sandal Grecia
is the ideal sandal to be comfortable and to take care of our back. Its height is 5.5 cm and it is available in the
basic colours
of this season:
black
,
camel
and
beige
.
2. You can wear them all day long
Nolita
has the
perfect heel
so you can wear them all day long and get to all your plans. Its height is 6.5 cm but with the effect of slippers at home.
You won't even notice that you're wearing a heel!
Once again, they are the
favourite heeled sandals
of the summer. With their 4 straps, they hold the foot perfectly, achieving that open toe effect that we love.
Moreover, this season they are available in new colours.
Discover the
Nolita model in all its versions!
3. Slimmer legs
Add a few centimetres to your legs with the
Aquila midi heel
and ankle straps.
The medium heel is not only comfortable but also slims the figure. It will make your legs look slimmer and more beautiful.
The straps are also one of the trends that is very strong this season. Besides, as they are 100% leather, they are soft and do not dig in.
In full colour!
Aquila
is available in the trendiest colours:
Butter
,
purple
,
scarlet red
,
black
and a
nude tone
that we love.
This
heeled sandal
has a height of 5 cm and we promise you won't take them off all summer long.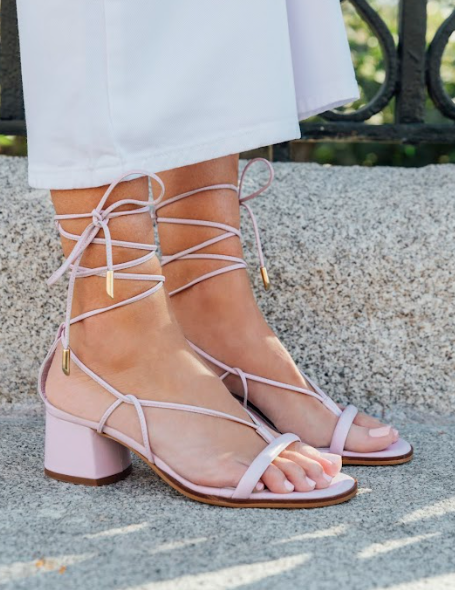 Discover the collection of low-heeled sandals suitable for all types of feet for less than €70!